The Napoleon-Nina Relationship is a Relationship between Napoléon Bonaparte and Nina .
Napoleon and Nina met in a Skype call in late June. Nina instantly developed feelings for the little Corsican upstart from then.
They met in a Skype call on June 30th at about noon EST and 6pm CET.
Napoleon has an affection and respect for Croatians, as he once said "Give me 100 000 Croatian soldiers and I will conquer all world"
Nina wants to learn French. Now not only for the sake of the language, but to more comfortably talk to the Little General
Napoleon also speaks Italian, another language Nina wants to learn.
They plan to move back to Corsica and live there, with Europe under their control.
Napoleon hides Nina from others in his army by keeping her under the name Marie Louise, made Empress of the French empire and Duchess of Parma.
Sometimes Nina and Napoleon engage in a threesome with a stick of butter.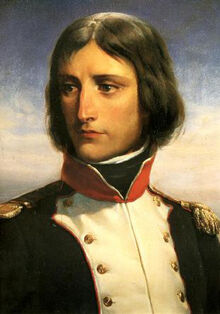 Ad blocker interference detected!
Wikia is a free-to-use site that makes money from advertising. We have a modified experience for viewers using ad blockers

Wikia is not accessible if you've made further modifications. Remove the custom ad blocker rule(s) and the page will load as expected.