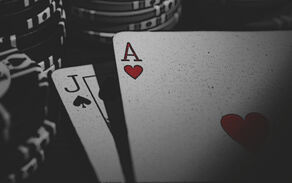 Welcome to the Jacks and Aces Character Contest! I hope we have a lot on contributes, and one lucky person will win!
The competition is closed!
What Do I Have To Do?
Edit
So, I'm sure most of you have read the story Jacks and Aces; it's set in the future, and the citizens are split into two, the "Jacks" and the "Aces". Most of the Jacks are killed at birth, the ones who escape are found and killed in imaginative ways.
The main character, Vixen, will be found and shipped away with a fellow Jack. Now, what I need, is the character of that fellow Jack.
So what you need to do is submit a character!
The character must be male.
He must be a similar age to Vixen.
Submissions
Edit
Make sure you include the boy's:
Name
Age
Where he was hiding
His background - what happened to his parents? Does he have any siblings?
Looks
Personality
Other info
I, Eloise, will be judging this competiton.
The Winner
Edit
And the winner (or should I say winners) are:
I loved your ideas, so I mixed them together and created a character! Well done, you two!