Tom-Joey Relationship


Shipname
Toey
Status
Close Friends
First met
TGP wiki
The Tom-Joey Relationship is the relationship between Tom and Joey. They are often reffered to as Toey.
They have a Father-Son Relationship, but they're friends and they help each other in everything, so they are also brothers.
They have a Hi-Bye system that they invented with Shan.
Both love Audi cars.
They often discuss about football.
Their favorite band is Queen.
They call each other Tim and Jiey.
They both agree that a movie is good when there are hot girls in it.
Their conversations are epic.
Their motto is " but always with a ."
They love doing this: One of them says "LIIIKEEEE AAAA BRRIIDDDGEEEE" and the other one answers "OVEEEER TROOOUBBLEEED WATTEEEER".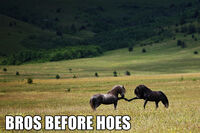 "

Joey: [about soccer] Become number 1!
Tom: WILL DO! FOR SPARTA!
Joey: FOR FREEDOM!!
Tom: TO DEATH!

"

—Joey and Tom
"

Tom [about music] That's why we're father and son, because he understands me and I understand him.
Joey: That's true Tim


"
Ad blocker interference detected!
Wikia is a free-to-use site that makes money from advertising. We have a modified experience for viewers using ad blockers

Wikia is not accessible if you've made further modifications. Remove the custom ad blocker rule(s) and the page will load as expected.