I am starting a new fanfic.... I SWEAR I WILL TRY REALLY HARD NOT TO CANCEL THIS. It is made up of hard challenges. Wiki challenges. Challenges that will show how much you want to win!Anyways, I need 8 people and there will be 6 weeks. 1 one person will be eliminated each week until only 3 remain. They will fight to win the Warrior Challenge !!! So SIGN UP!
BTW:  THIS IS NOT A COPY OF THE FINAL CUP OR THE USER CHALLENGE...... IT IS CHALLENGES THAT YOU ARE WILLING TO TAKE RISKS FOR!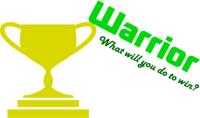 SIGN UPS!
McMau
Timothy
Deli Bird
JoJo
Bran Flakes
MaRk
Ad blocker interference detected!
Wikia is a free-to-use site that makes money from advertising. We have a modified experience for viewers using ad blockers

Wikia is not accessible if you've made further modifications. Remove the custom ad blocker rule(s) and the page will load as expected.