Nasia, Ty and I were playing this game this evening/morning and we had fun doing it. You know how every member has his own way of talking/expressing themselves, so what we did was saying something that one of our members would say and the other had to guess who it was. I saved most of the impressions, so here's your choice to guess who it is.
To make this fun, answer everything first before looking at the comments.
Note: We didn't do too much impressions, only a few people, so feel free to do one yourself
Mystery Person 1 = Lily
Impression 1

Impression 2

Impression 3
Mystery Person 2 = Delilah

Mystery Person 3 = Shan

Mystery Person 4 = Mark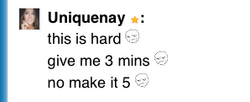 Mystery Person 5 = Nasia

Ad blocker interference detected!
Wikia is a free-to-use site that makes money from advertising. We have a modified experience for viewers using ad blockers

Wikia is not accessible if you've made further modifications. Remove the custom ad blocker rule(s) and the page will load as expected.