We were in chat and had the idea to create a Wiki Soccer Team. Maybe Soccer is not everyone's favorite sport, but we thought this would be fun.
The team name is Mighty Lions.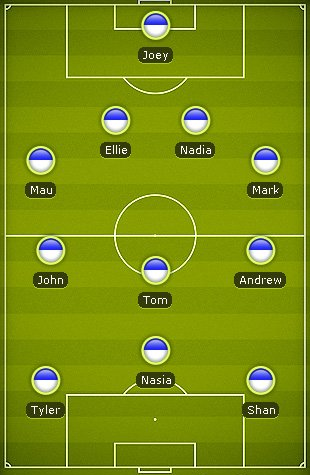 Joey - Keeper. Plays with number 1. Is the team captain.

Mau - Left-Back. Plays with number 2. He defends against the opponent's winger.

Ellie - Centre-Back. Plays with number 3. She's the tough one. Her nickname is "The Wall". 
Nadia - Sweeper. Plays with number 4. She is in charge of reading the game.
Mark - Right-Back. Plays with number 5. He defends against the opponent's winger and helps Andrew with his job.
John - Left-Half. Plays with number 6. He helps Nasia trying to unblock her path.
Tom - Attacking Midfield. Plays with number 7. Creates the game, helps attacking and defending.
Andrew - Right-Half. Plays with number 8. The fast one. He tries to generate goal opportunites running in the right.
Tyler - Left-Wing and Second Striker. Plays with number 9. Helps Nasia and also tries to score when he has the opportunity.
Nasia - Centre-Forward. Plays with number 10. She often unblocks Shan or Tyler's path and then moves to the middle, trying to generate goal opportunities.
Shan - Right-Wing. Plays with number 11. Collaborates with Andrew and tries to generate free spaces.
Delilah and Brandon are cheerleaders. And I may do a Fan-Fic about this

Ad blocker interference detected!
Wikia is a free-to-use site that makes money from advertising. We have a modified experience for viewers using ad blockers

Wikia is not accessible if you've made further modifications. Remove the custom ad blocker rule(s) and the page will load as expected.